Pode ser parcelado com cartão até 12x via mercado pago e codigo qr
VG-99
V-Guitar System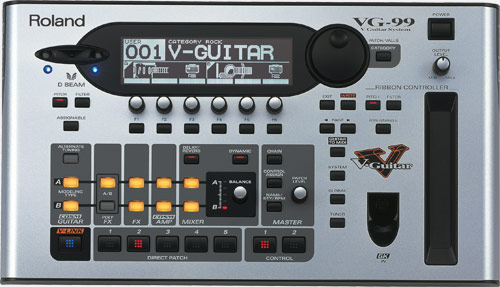 DISCONTINUED
A MILESTONE IN GUITAR MODELING AND PERFORMANCE TECHNOLOGY
In the history of guitar modeling, no manufacturer has devoted more time, resources and passion into this market segment than Roland — from the world's first guitar modeling processor, the legendary VG-8, to its popular V-Guitar predecessors. Today, Roland proudly announces another milestone in guitar modeling and performance technology: the VG-99. With three powerful new processors at its core, plus expressive performance controls such as Ribbon Controller and D BEAM, this remarkable instrument raises the bar in guitar modeling and performance technology.
FC-300

FOOT CONTROLLER

FC-300 - A nova geração de controladores.
O FC-300 apresenta um novo patamar de performance, controle, versatilidade e inovação entre as pedaleiras controladoras MIDI do mercado. Com funções como: transferência de informação MIDI bi-direcional para o VG-99 (através do novo sistema RRC2), visor que mostra o patch selecionado, 2 pedais de expressão e muito mais, esta avançada estação de controle é o complemento perfeito para o novo ROLAND VG-99 V-Guitar System ou qualquer outro aparelho/instrumento MIDI.
Avançado controlador MIDI com 2 pedais de expressão programáveis, 2 pedais de controle e 9 footswitches
Novo "PATCH MODE" salva até 100 setups MIDI.
Além da conexão MIDI comum, é compatível com o novo sistema RRC2 desenvolvido e adaptado para transferência MIDI entre o FC-300 e qualquer produto ROLAND equipado com o mesmo sistema.
3 opções de alimentação de energia e chassis de metal super resistente.
2 footswitches "AMP CONTROL" para alternar os canais ou efeitos dos amplificadores.
Companhia perfeita para o novo VG-99.
Controle e Expressão
O FC-300 é equipado com nove footswitches super resistentes e mais 2 pedais de expressão programáveis para controle rápido e fácil de parâmetros de efeitos. O visor de LCD oferece um grande contraste na leitura de patches (só aparecem os nomes quando usado com o VG-99), permitindo enxergar até no mais escuro dos alcos.
Patches poderosos
Até 100 parâmetros/mensagens MIDI podem ser armazenados pelo FC-300 simultaneamente como patches. A transmissão MIDI fica mais ágil, graças a habilidade do FC-300 em comprimir milhares de informações juntas em um único patch, e transmitir cada informação via footswitches.
Conectividade avançada
Utilizando um cabo LAN (Ethernet, CAT5) e o novo protocolo RRC2 exclusivo Roland, o FC-300 oferece transmissão MIDI bidirecional e alimentação elétrica com uma simples conexão entre o VG-99 e o FC-300.
Mudança de canal do amplificador
O FC-300 possui dois "switches-jacks". Estes outputs programáveis são ideais para os guitarristas que querem maior versatilidade, pois podem alternar os canais ou os efeitos dos amplificadores em sincronismo com a mudança de patches do FC-300./